Funerals can be arranged through the parish office at 231-547-6652. The family needs to meet with the priest and/or catechetical leader so that readings and music can be selected for the funeral Mass. We coordinate with all area funeral homes about date and time. Burials usually occur immediately after the funeral. However, in the winter they may be delayed until the spring or summer. The funeral director will determine that depending on the weather.
Funeral luncheons are offered at the family's request in our parish center after the Mass. We have a volunteer staff that prepares, orders and serves the food.
St. Mary cemetery information is handled through the City of Charlevoix.
Please contact our sexton, Justin 547-3271
---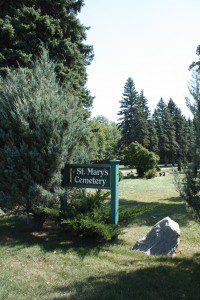 Cemetery Information
St. Mary Cemetery is located on Stover Rd.
For information please contact the Parish Office 231-547-6652
The City of Charlevoix maintains all the records for the cemetery.
Please call 231-547-3260 for records. Sexton 231-547-3271.